To Passionately pursue a real relationship with God and each other by demonstrating God's fierce love and empowering all for Kingdom advancement.
Rather than being the one with all the answers, Jesus is sometimes the one who asks us questions--questions that force us to decide what we really believe. In The Counselor, Jesus asks "Why are you so afraid," "Do you believe I can do this," "Do you want to get well," and "Why do you doubt?"
A PEOPLE ACTIVELY SHARING GOD'S LOVE IN EVERY ASPECT OF LIFE.
OUTREACH OPPORTUNITIES THAT MEET THE SPIRITUAL, MENTAL, AND PHYSICAL NEEDS OF OUR COMMUNITY.
AND SUPPORT THOSE CALLED TO SERVE IN OTHER PLACES.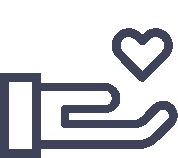 "A gift opens the way and ushers the giver into the presence of the great."